products:
• Puffy Stuff is available in Marshmallow size or Standard.
• Custom shapes and colors are available upon request.
• Need a hopper for all those peanuts? No problem! Just ask one of our sales associates.

Puffy Stuff Standard Peanuts

Puffy Stuff Marshmallow Peanuts
Free Flow Loose Fill Dispensers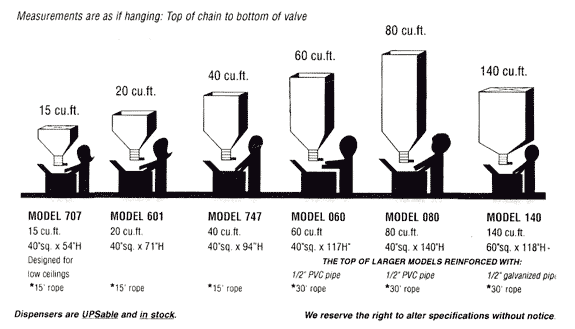 A heavy duty loose fill dispenser that handles any manufacturer's loose-fill dunnage or cushioning material made from expanded polystyrene.
The gravity feed dispensers speed up operation with no waste. They are efficient and out of the way, storing packing material above the packing floor for ease of packaging at the point of use.
FEATURES
100% cotton canvas bag (white) - no static.
Interlocking chain, steel cross bars and metal fasteners - for strength.
Spring loaded cast aluminum scissor valve with cushioned handles for comfort.
1 ft. wire reinforced flexible tubing - clear.
Easy to install. Comes partially assembled.
You provide the ceiling fixtures, we supply the rest.
All parts are replaceable and in stock.
Length of rope and/or tubing can be customized.